The Scroll of Atankharzim News
October 17, 2022
The Downloads section has been updated with the latest versions of the Udjat and Warlock.
October 10, 2022
Another major update to Part I is out, bringing MediaVPs 4.6.x compatibility as well as many other upgrades and improvements. Check the forum or Discord for all the details. Never fear, work continues on Part II!
August 6, 2020
There have been a few updates to the Part I release since the last news post, but my guess is that most people found out about them via the forums, Discord, or Knossos. At any rate, another major update was released today, this one adding support for the recently released 4.3.x MediaVPs.
May 15, 2018
The Scroll team has released a major update to the Part I release, which features several improvements to the campaign and adds Nyctaeus's high-poly models. Get it from the Downloads page or this thread on the forum.
December 5, 2017
Nyctaeus is at it again, with a high-poly version of the GVCv Udjat, originally created by GalEmp. Check it out on the forum thread or the Downloads page.
September 21, 2017
The Scroll of Atankharzim, Part I has been released! Check the Downloads page or this thread on the forum.
September 10, 2017
After a longer than expected hiatus, we are pleased to announce another model release: the GTSC Schroedinger, a combined effort by Moonred, Black Wolf, Hades, and Nyctaeus. Check out the forum thread or the Downloads page.
October 8, 2015
Another release to announce! The Dagger has posted a download of the new high-poly version of our GVB Maahes. Have a look in this thread or on the Downloads page.
September 1, 2015
We've fixed a bunch of bugs in the GTCa Warlock POF and added a table entry. Check it out at the forum thread or on the Downloads page.
June 11, 2015
Eep, has it really been that long since the last update? Shocking, but not surprising, given the increasing Real LifeTM commitments once we all got out of college. Anyway, we have made substantial progress over the past couple of years, although obviously not as much as we'd like. We've completed a couple of missions and gotten close on a couple more. We've also made some progress on table and model editing.
And we have a release to announce! After a particularly complex relay sequence of passing the model from one person to another, we have finished an HTL upgrade of Inferno's classic carrier, the GTCa Warlock. It makes a minor appearance in Act 1 of Scroll, but we thought there's no reason why you shouldn't get to enjoy it now. Have a look in this thread.
November 30, 2011
Scroll is slowly but surely coming along. At one point we thought we might be able to swing a Christmas 2011 release of Part 1, but that is probably not going to happen for a couple more months or so. We are, however, very close. We are finished or finishing 22 of 24 missions for Part 1 of the campaign, with one of the remaining missions being FREDded and one not yet started. We've also rendered quite a few cbanims, and Mjn.Mixael's team has produced an excellent Vasudan model which will see heavy use throughout the campaign.
In the meantime, I am pleased to say that Moonred has started making models for us again. He's already completed one model which is in the process of being uvmapped and textured, and he's currently HTL'ing another model. You can see his progress here.
January 27, 2011
Funny, even with all the work that got done on Scroll in 2010, none of us thought to post an update! I suppose that's a reflection of how busy the internal forum was last year. There have been quite a few new developments, the most notable of which is Sesquipedalian's return to being an active staff member. He won't primarily be involved in the project management or day-to-day operations (that's still my job), but he will be providing much appreciated guidance on story and plot development. He's also already submitted a couple of vignettes for the Fiction Viewer, which will find frequent use during the course of the campaign.
The major new addition to the staff last year was TopAce. He has so far done the lion's share of the FREDding since Scroll came back from hiatus, and thanks to his work (and the rest of our FREDding team) we are now nearly mission-complete for the first half of the campaign! This doesn't mean a release is imminent, unfortunately, but it does mean we're close to achieving a significant milestone.
We've also been fortunate in acquiring the services of mjn.mixael. He's already rendered some command briefing animations for us, and we hope to also have his assistance with some more substantial goodies in the future.

November 23, 2009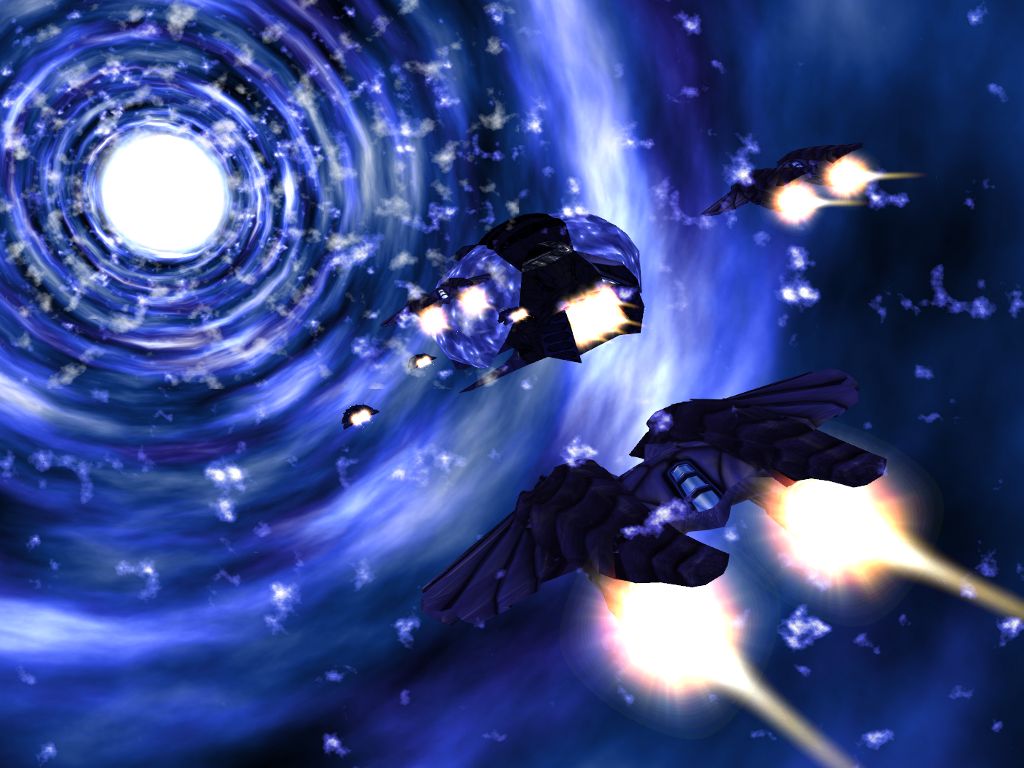 With all the work that's been done on Scroll lately, it's effectively (if not officially) out of hiatus. We've taken on some new staff, produced some new graphics, and FREDded a new mission. Here's an example of something that FreeSpaceFreak is working on (click for larger version).
I told FreeSpaceFreak that it looked like a pillow had exploded in subspace.

This isn't the final draft; he's still working on it. But we thought you'd like to see some evidence that Scroll is, indeed, alive and thriving once again, and maybe even having a little fun at the same time.
November 5, 2009
With Silent Threat: Reborn complete, TVWP Chapter 1 almost complete, and various other projects wrapping up, we are quite close to bringing Scroll out of hiatus. We're starting to hire more staff, and we're making updates to our Subversion repository again. Hopefully we'll have more frequent updates for our loyal fans sometime soon.

September 6, 2008
Here's the obligatory August/September yearly heartbeat update.

Scroll is still on hiatus, but starting to ramp back up. TVWP Chapter 1 Part 1 has been released, and Part 2 should be forthcoming very soon. Silent Threat: Reborn should also be out by the end of the year. Phreak has come out of hibernation and done some mission updates for us.
There has been a bit of friendly debate on the internal as to whether to split up SA into multiple releases, just like with TVWP. Part 1 is nearly complete mission-wise, but if we finish the last two missions and release it, it wouldn't have the cutscenes or fine-tuning we plan to perform later. What do you think? Post your thoughts in the forum.
August 4, 2007
Another year, another update. I guess you could say that Scroll is on hiatus until one of the following happens: 1) Sesquipedalian finishes his Ph.D., 2) Goober5000 releases Silent Threat: Reborn and TVWP Chapter 1, or 3) Galactic Emperor completes his architecture degree. Rest assured, we are committed to finishing this campaign, even if it takes another five years.

In minor news, the public downloads section of the website has been fixed. All public downloads are mirrored at FreeSpaceMods.net, courtesy of Swantz (who also runs NukeLOL.com).
September 25, 2006
It's been another year since the website has been updated, but things are starting to get moving again. Sesquipedalian has finished his thesis, and I, Goober5000, have transitioned from an associate member to a full staff member. I've taken the opportunity to give the website a much-needed overhaul, although as is typical, end-users will probably not notice anything different.

Expect more updates in the (hopefully) near future.
September 11, 2005
Well, apparently it's been two years since we've updated the website (that's as long as Sesquipedalian's been married... congrats, Jon.) If you look around you'll find a few changes, but we recommend you check the forum for the latest releases and teaser pics. Here's what's new:
Command Briefing Animation #1 has been rendered. Expect to see more from where this came from in the Scroll's main campaign.
The GVCv Udjat has been given a complete model, texture, and armament overhaul; and the old version is now available for public download.
More mystery mods are being revealed, and there's a treat in store for those of you with high-end systems.
Missions are progressing, and we are approaching a release soon.
November 4, 2003
An update, for the sake of updating. Things may look quiet on the surface, but behind the scenes... well, things are still pretty quiet. Missions are being manufactured one at a time, at a steady pace, and though the core mods are done, there have been a few enhancements recently:
The GVCa Tanen has been given a complete overhaul and now looks a hundred times better.
The mysterious ST Xandja has been sighted in Shivan convoy groups converging on our location.
The GVI Viraj is now being textured and armed. (Link goes to concept art.)
All SA fighters and bombers are being given full animated interface art and squad logos.
Other behind-the-scenes table editing and musical additions are being made.
Sesquipedalian is currently on shore leave, so I, Galemp, will be managing the mods whilst the FREDders follow the existing mission scripts. Rest assured, progress is indeed being made.
July 8, 2003
Missions are proceeding (although I need to crack the whip a little harder at some people). I have been pecking away at the texturing of the GVI Viraj. I had a few false starts, but have found a good style for it now.
In other news, Galactic Emperor recently completed the GVSC Nidaba. This science cruiser is going to replace the Imhotep in SA. See it in the Technical Database. GE has also been working on the modelling of... other things... for SA. They are beautiful.
May 17, 2003
It seems Galactic Emperor is going to be offline for most of the summer, so the remaining model making that has to be done is on hold until then (although he assures me that he will be working over the summer and will come back with a bunch of goodies for us).
In other news, the GVB Maahes is 100% complete. Take a look at her in the Technical Database!
April 2, 2003
It's been too long since this was updated...
The academic semester is nearing its end, and pressure is high. Therefore, it is procrastination time! Things have been continuing the last few months behind the scenes. FREDding has been a bit slower, but much work has been done in other aspects of the project:
The GVSC Imhotep is completed, in game, and flying in missions.
The GVCv Udjat, barracude of the Vasudan navy, is finished and ready to eat the enemy alive.
The GVB Maahes is modelled and soon to be textured.
The GVSG Viminas, the Vasudan equivalent of the Mjolnir, is under construction.
Galactic Emperor is currently modelling the GVI Viraj, jewel of the Vasudan people and symbol of the Dawn, and perhaps the most astounding Vasudan model I've ever seen — even as a work in progress.
Also, some new FREDding staff have come on board. The Sloth is already getting started on FREDding a mission, and Kovacs36 should be shortly. A couple more potential staff are in the wings, and will be announced once all is finalized.

December 27, 2002
Let's see, what's new?
The GVB Menhit has received its skin, as certain HLP forumites have already discovered.
Phreak is doing well in completing his allotted missions, Cuttenslise is working on his, and I've been finishing off a few half-completed ones.
Nuclear1 has just joined our staff. He'll also be lending us a hand with FREDding.
My past twenty-four hours of work have paid off, and the new music soundtracks have just been uploaded. Not only will SA look good, play well, and tell a rich story, it'll sound great too!
More backgrounds have been completed, including a ringed planet. Check out the Screenshots page to see it as implemented in-game.
December 12, 2002
New staff members have joined SA! Cuttenslise and Phreak have come on board for FREDding, and Aldo has volunteered to model some things for us.
December 3, 2002
Forums are up and running. The semester is almost over now, so soon I will have a month off to work undistractedly on the Scroll. Several candidates for FREDding are being considered, and once I have a chance to test out their missions, the staff list should grow.

Hit a snag with the Imhotep a little while ago, so I'll be redoing its texturing this Christmas too.
The addition of new sexps into fs2_open has confirmed that the Scroll will be using the SCP's engine, so expect lots of extra features that will exploit their superb work.
November 27, 2002
Site moved to Hard Light Productions! Forums should be forthcoming very soon.
November 10, 2002
The GVSC Imhotep has been textured. Turrets will be attached shortly, and then LODding will begin. To see a quick render of the Imhotep, click here.
November 3, 2002
The website is being revamped and missing content added. Hopefully HLP hosting is not far behind!
Galactic Emperor has received all the necessary files to start working on some FREDding, so the rate of mission completion should increase dramatically soon.